About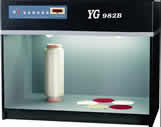 Ningbo Textile Instrument Factory was founded in 1965 and is located in the Ningbo High-Tech Industrial District. It is a high-tech enterprise, with decades of researching and developing of their products and services. Now they are dedicated to producing and selling their fabric tester for special environment projects, such as high temperature aging labs, clean rooms, aseptic rooms and so on.
They have powerful scientific research strength, with more than 60 technicians, 68% of which are high-class engineers. They also employ experts and professors from famous colleges.

The pursuit of superior scientific technical innovation, while putting the customer first is their operational theme. In 2007, they independently researched and produced the YG461E-lll Automatic Permeability Instrument and the YG606E Flat-Plate Fabric Heat Retaining Instrument. The YG541E Fully Automatic Digital Fabric Crease-Recovery Tester has been tested by national experts and is listed as a state-level scientific and technological innovation product.
Their products can be used to test woven and nonwoven fabrics' strength, permeability, crease, insulation, flame resistance, moisture permeability, water permeability, electro static, shrinkage, abrasion-resistance, pilling, and more. Their products are also conformed to GB, ISO, ASIM, AATCC, BS, EN, DIN, JIS, IWS and other standards. Ningbo Textile Instrument Factory is ISO9001:2000 certified.

All the staff of Ningbo Textile Instrument Factory strive to maintain their good reputation, upholding the spirit of truth, innovation and development, while always adhering to the concept of focusing on research, development and being the industry's example.
Supplier Directory Categories
Ningbo Textile Instrument Factory is listed in these categories: