About
Since Owens Corning was founded in 1938, the company has continued to grow as a market-leading innovator of glass fiber technology. A Fortune® 500 company for 59 years, Owens Corning and its people redefine what is possible each day to deliver high-quality products and services to customers around the corner and around the world.
Owens Corning invented glass fiber, and glass fiber insulation, over 50 years ago. The Owens Corning brand and its full line of PINK insulation products has long been synonymous with trusted performance and brand preference. Today, the company has become a leading home building products company.
Additionally, by developing a world-class science and technology team, Owens Corning has successfully expanded applications for glass fiber materials. Owens Corning is the world's leading producer of glass fiber materials used in composites.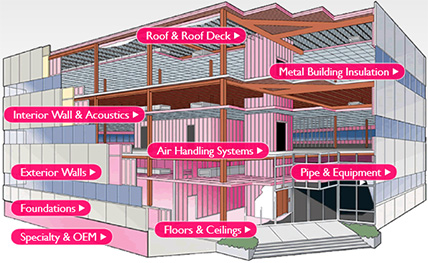 Global Composites Systems Solutions. Owens Corning glass fiber materials can be found in over 40,000 end-use applications ranging from computer to automobiles, and from telecommunications cables, pipes and boats to appliances, snow skis and aircraft. Learn how Owens Corning works with our customers to create material solutions that help make these and other products perform better.
Home Building Systems. From insulating, roofing, acoustical, to basement finishing, Owens Corning's systems deliver maximum energy efficiency, low maintenance, sound control, convenience, beauty and peace of mind with warranties that are among the best in the industry.
Supplier Directory Categories
Owens Corning is also listed in these categories: