About
Piedmont Bushings & Insulators is a manufacturer of high quality dielectric products. PBI has been a reliable source for over 30 years, supplying (around the United States & around the world) new equipment to transformer manufacturers and to end-users for replacement requirements.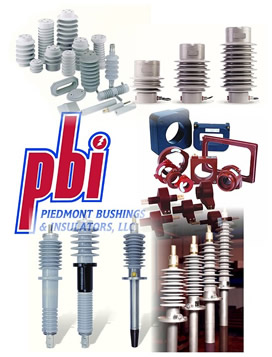 Piedmont Bushings & Insulators specializes in the custom design and manufacture of the following product lines:
Piedmont Bushings & Insulators, LLC, is a woman-owned ISO compliant manufacturer of low and medium voltage bushings, insulators and specialty engineered products designed for medium voltage switchgear, circuit breakers and transformers.
Piedmont's broad product line includes apparatus and entrance bushings, porcelain and Polykeram insulators, porcelain bus and switchgear insulators, current transformers as well as an expansive library of engineered products. Piedmont's engineering expertise allows them to refurbish, redesign or replace existing bushings, current transformers or other components for existing field installed equipment with proven in-house manufacturing processes unique to their operation.
Housed in the same location for over 30 years and with over 80 years of design and manufacturing expertise and experience, PBI has inherited a long standing tradition of high quality dielectric products and custom engineered products to meet the needs of a wide range of customers in the electrical industry.
Piedmont is committed to becoming a major supplier to new equipment manufacturers, utilities, and distributors for replacement parts. You can depend on a company whose engineers have spent a lifetime meticulously designing bushings and insulators with superior reliability to meet all of their customer's individual needs and requirements.
Supplier Directory Categories
Piedmont Bushings & Insulators, LLC is listed in these categories: