About
Finishing Since 1989.
System Technologies is an Indiana Corporation founded in 1989 to design, manufacture and install the most comprehensive solutions to their customers needs in industrial finishing systems. System Technologies, Inc. is comprised of two divisions: STI Industrial Finishing Systems Division and STI Aqueous Cleaning Systems Division.

System Technologies Knows Finishing.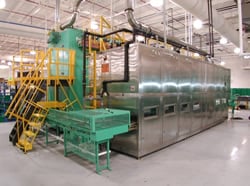 After all, the finish on your product is what's important. System Technologies has over 30 years experience in finishing technology and system integration. Their expertise is in automated coatings application. They understand all the options available that can make or break a finishing line. They offer an ability to assess accurately their customers' needs and provide properly integrated equipment to maximize production and quality. Experience has shown System Technologies that their Integrated Process Approach has the advantages that guarantee productive, cost-effective finishing systems. System Technologies integrates talent, resources and experience from supplier and customer to achieve project success. By stressing a team approach and a strong customer/supplier partnership they are able to optimize process performance and guarantee system integrity while maintaining clear-cut cost and schedule control.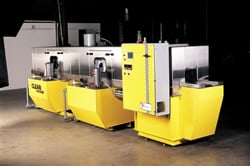 Saving You Time & Money.
System Technologies' total project management approach saves you time and money. Their personnel become members of your team to make sure that the project moves quickly and smoothly to meet your schedule. System Technologies provides complete turnkey finishing systems for liquid and powder coating applications. They assume full responsibility for design, manufacture, installation, training and service. Because they understand coating technology, their engineers can design and fabricate the necessary system components or select from a full range of other equipment manufacturers. System Technologies does testing in house or at manufacturers' facilities to prove their concept and system design.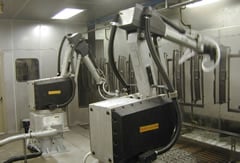 System Technologies' Guarantee.
Thorough training of your personnel makes System Technologies' system a productive, cost-effective tool in your manufacturing plan. Well trained people make the most of their system. They make sure that your personnel can work smart to maximize your systems capability. Training is done in your facility on your system with your personnel. If required System Technologies can supply specialized training from the other manufacturers they represent. The system must perform to your standards. They guarantee that. System Technologies offers an unparalleled warranty that includes two years parts and labor as well as two system audits each year the warranty is in effect.

A Smart System.
Properly engineered controls turn concepts into sound productive systems. It is essential that all the components of the system work together smoothly. One of System Technologies' strongest advantages in the industry is their capability to engineer and build complete PLC or PC control systems. Their control systems range from a simple on/off switch to a fully programmable network of PLC's, operator interfaces and custom software. Their goal is a smart control system that is productive, flexible and user friendly. Their Smart Touch control system utilizes pre-engineered and tested software where possible to minimize the start-up process.

Bottom Line.
System Technologies knows finishing. That's the bottom line. Their work starts at the finish line. System Technologies has built an outstanding reputation by meeting their customers' goals, and they can do the same for you.
Supplier Directory Categories
System Technologies Inc. is listed in these categories: