About
The Solution to Your Accuracy / Positioning Problems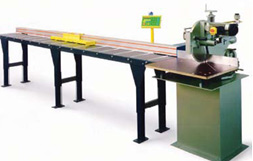 TigerStop, LLC is the global leader in automatic stop/gauge and pusher systems. Over the past decade more than 20,000 units have been installed worldwide.
Simple to Buy
TigerStop is so confident that a TigerStop will work for you that they offer a 30-day free trial; all you pay is the cost of freight. TigerStops hold their value too. If you can even find used TigerStop equipment, you will see machines from ten years ago selling for about 90% of their original cost! With TigerStops being used worldwide from the White House to Boeing Corporation, they can provide you a very long list of references.
Simple to Install
TigerStop has taken great care to make sure your new product is easy to install. Comprehensive manuals give you step-by-step instructions for installing your TigerStop product for years of worry-free operation. If you have questions, TigerStop's highly trained certified dealers and customer service personnel are ready to assist you.

Simple to Learn
Your operators can learn to run a TigerStop in a matter of minutes. Every sawyer will be your best sawyer...day after day....cut after cut!
Simple to Use
TigerStop eliminates time-wasting manual processes such as setting stops, marking material, and measuring. Now, even test cuts will be a thing of the past.. TigerStop's controls are non-intimidating, using intuitive, universally known graphics, and large, easy-to-read numbers.

Simple to Maintain
TigerStop uses materials that are designed to give you long-term durability. As a matter of fact, many of their very first TigerStops are still in operation today, nearly two decades later. TigerStop requires only two electronic components, so troubleshooting is a breeze. With TigerStop's modular approach, keeping your TigerStop running is a simple task requiring minimal maintenance. Spare parts ship from Vancouver, Washington in 24 hours or less, guaranteed! No need to worry about overseas parts shipments to keep your operation moving.

You'll sleep well knowing that support is available should the need arise. From their top-notch network of dealers and TigerStop regional managers to their full-time support staff, you can count on timely solutions to any problem. In a recent survey (Zoomerang, 2008), TigerStop customer service received a 97% satisfaction rating.

Simple to Upgrade
Should you require spare parts or upgrade accessories for your TigerStop product, you can be sure that you will get your parts when you need them.
It is TigerStop's mission to make products that are simple to buy, simple to install, simple to learn, simple to use, simple to maintain, and simple to upgrade. With customer satisfaction at over 95%, TigerStop is a simple decision.


Supplier Directory Categories
TigerStop, LLC is listed in these categories:
Technical Articles

Cotterman Co. Built Metal Tough (.pdf)
(Machine Tool Accessories)
Cotterman Company, based in Chicago, has been manufacturing some of the best industrial ladders for over 85 years. Business was going well, but their manufacturing engineering group was looking for... (
View Full Article
)

Fenestration Automation
(Machine Tool Accessories)
We've all watched glamorous ads on national TV during the SuperBowl or some equally grand national spectacle. We're talking about the type of ads that tout full customization and automation with... (
View Full Article
)