About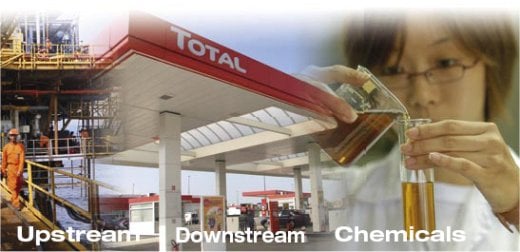 A global multi-energy provider
Total is the world's fourth-largest publicly-traded integrated oil and gas company, with operations in more than 130 countries worldwide spanning all the aspects of the petroleum industry, including Upstream operations (oil and gas exploration, development and production, LNG) and Downstream operations (refining, marketing and the trading and shipping of crude oil and petroleum products) shipping.
Total is also a world-class chemicals producer (Base chemicals: petrochemicals and fertilizers, and Specialties: rubber processing, resins, adhesives and electroplating) and has interests in the coal-mining and power generation sectors. In addition, Total is helping to secure the future of energy through its commitment to developing renewable energies, such as wind, solar and photovoltaic power and alternative fuels.
With more than 93,000 employees worldwide, Total reported sales of €184.7 billion in 2011.
TOTAL LUBRICANTS USA, Inc.
Total Lubricants USA, Inc. is headquartered in Linden, New Jersey. Throughout the years since the founding of the company in 1868 the company's primary business has remained essentially the same; the development, manufacturing, and marketing of lubrication products.
A subsidiary of Total, S.A., an international oil company, Total Lubricants USA, Inc. has manufacturing and office facilities in New Jersey, North Carolina, and Tennessee as well as a sales office in Germany.
The business is organized into three business segments that supply lubricants to glass bottle manufacturers, lubricants to the marine industry, and specialty lubricants to a wide variety of industries, including food processing and metalworking. Our markets are served by both distribution and direct sales channels.
From our early origins as a privately held company we have continued to grow while maintaining our goal of providing technically advanced quality products and superior customer service.
Supplier Directory Categories