About
At Veetronix, Inc. they manufacture and distribute highly reliable keyboard and panel mount switches for almost every low current application possible.

Veetronix switches are found in military and government control panels, keyboard panels, computer keyboards, and switches for video and audio equipment.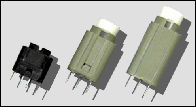 All Veetronix switches, regardless of type, style or price, operate with their unique design for hermetically sealed contact actuation.
Unlike mechanical switches, Veetronix switches are magnetically actuated. No moving parts touch the switch contacts. The contacts are hermetically sealed, thus preventing air containing dust, moisture, or gases from contaminating the contacts. Switch reliability is monitored constantly, and field failures are almost unheard of . . . even after millions of actuations!
Supplier Directory Categories
Veetronix, Inc. is also listed in these categories: