Screw Compressor VR
Product Announcement from Aerzen USA Corp.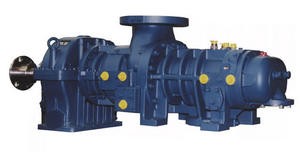 Aerzen Screw Compressors VR for process gas technology in modular system single- and multi-stage for dry compression of process gases. The Screw Compressor stage is available in 13 sizes with swept volume flows from 600 m³/h to 120.000 m³/h. Differential pressures between 7 and 12 bar are standard at single-stage compression. With multi-stage design discharge pressures of 25 bar and 40 bar max., but also vacuums lower Pe –0,9 bar are achieved.
The maximum (1350 mm) and the minimum rotor length (155 mm) give an impression of the entire breadth of the offer. For the adjustment to the different process gases, rotors made of steel or special steel and casing of nodular cast iron, steel- or special steel casting can be applied.
The unit design can be effected acc. to the following guidelines:
DIN / EURO standards
NACE
AD-regulations
TEMA - standard
ASME VIII Div. 1, incl. U-stamp
API-guidelines
---