Plugged Chute Detector
Product Announcement from Arjay Engineering Ltd.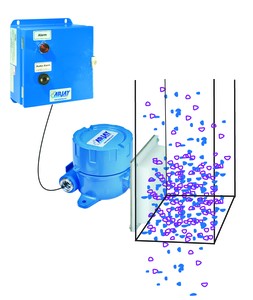 Over 40 years of Arjay's field proven HF capacitance technology has been applied to the 2852-PCD plugged chute detectors. The flush mount sensor continuously monitors the change from a normal material chute condition to a plugged condition.
capacitance technology responds to any material type
no moving parts
remote alarm unit mounts safely away from pipe
no intrusion into chute or hopper
The 2852-PCD sensor monitors the capacitance field in front of the sensor plate. The sensing plate forms part of the chute or hopper wall to sense the product within. The increased presence of product in front of the sensor due to a plugging condition increases the capacitance field and initiates an alarm.
The sensing plates are embedded into a polyethylene plate which provides monitoring without any intrusion into the product flow.
Features & Benefits:
flush mount sensor forms part of the chute wall
adjustable time delay and sensitivity to eliminate nuisance alarms
remote electronics via standard twisted pair
available with Intrinsic Safety Barrier for Hazardous Locations
high erosion resistant polyethylene resists wear
capacitance technology responds to all types of bulk materials
non-intrusive sensor design does not restrict product movement
Technical Specifications - Control Unit:
Operating Temperature: -20°C to 55°C
Power Input: 12 or 24 vdc or 100-240 vac
Alarm Relay: 2 x 10 amp, SPDT, dry
Standards: UL, CSA, IEC, CE, ISO
Enclosure: Type 4X, IP65
Optional: Lights and Buzzer
Technical Specifications - Sensor:
Operating Temperature: -60°C to 55°C
Approval: CSA Class 1, Zone 2, Div 2, Groups A,B,C,D (also available with an Intrinsic Barrier Option)
---