Spring-Fast® Wire Protection Grommet Edging
Product Announcement from Device Technologies, Inc.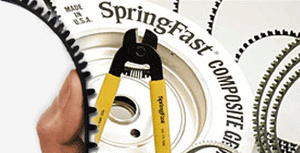 High Performance Wire Protection Grommet Edging Solutions!
The UL94 V-0 flame rated grommet edging and edge trim protection of choice for applications that include telecom, computers, switching equipment, construction equipment, medical units, and instrumentation. In aerospace and military electonics application see NAS M22529/1 and or NAS M22529/2
Snapping on in seconds, Spring-Fast wire protection grommet edge protection significantly reduces installed cost by eliminating the need for application of heat or toxic adhesives (and the extra application media that goes along with them) and eliminating clean up and cure time while reducing HazMat in the workplace and increasing productivity. Further, it's two and four-axis flexibility applies easily and securely to single and multiplane applications and to small inside and outside radii.
Designed for Efficient Manufacturing & Assembly
Spring-Fast® Offers
Sheet thickness of 0.020" (.5 mm) to 0.250 (6.4 mm)
Factory discrete cut lengths or kits of a plurality of factory precut lengths of 25 ft. (7.8 m), 100 ft. (30.5 m), 500 ft. (150 m) reels
Roll-Fast™ installation roller
Full by-pass shears for burr free cut off
Spring-Fast® mobile cutter cart
PSA backed Mylar measuring scale
Spring-Fast® Eliminates
Toxic adhesives
Application media
Clean up & cure time
Application of heat
Custom molding costs
BETTER
DTi is not interested in a solution that's merely okay.
Before Spring-Fast® wire protection grommet edging, to protect wires from abrasion was the adhesive application of plastic wire protection grommets into through-holes or edges.
But, the better solution goes outside the box
Why clean metal with VOC-laden solvents? Why adhesive bond plastics if it requires training and special garments? Why clamp it while it cures? Why use the heat gun to activate an adhesive? Why hold up production like this?
DTi took a step back and asked, why adhesive or heat guns at all?
A snap-on solution-cleaner, better, faster-is what DTi developed
Spring-Fast® is better because the whole flow of through-hole protection of cables and wires, fiber and hoses is speeded by a magnitude… and it needs no special handling, no special training, no special gear. When you look at wire protection as a system, as the part plus its procedures plus its labor, Spring-Fast® cuts costs in half or more. Better.
CLEANER
Spring-Fast® wire protection grommet edging side-steps all the mess of adhesive applications.
But it's also a clean solution because it's the simple answer to the problem. DTi considered not just through-hole or edge protection for product as it goes out the door, but protection that remains viable through the product lifecycle, in the most severe of environments.
Spring-Fast® wire protection grommet edging sidesteps long term embrittlement in low humidity environments. It's chemically resistant to most hydrocarbons, Skydrol immersion and salt spray. Finally, it has outstanding shock and vibration characteristics.
In short, the Spring-Fast® wire protection grommet edging design encompasses assembly, field use, and maintenance. When you work with DTi, the problem receives the same systematic approach. Their track records are clean solutions that work not just in the short term, but for the entire product life. Even with products like aircraft that have long, hard lives, their solutions continue to save money and time…even when it's time to modify, repair, or overhaul.
FASTER
Spring-Fast® was designed for manufacturing flexibility. As a result, DTi is prepared to handle the requests and changes their customers need.
---