Product Announcement from Environics, Inc.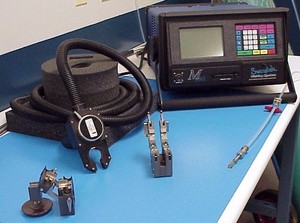 Environics® : World Leader in Computerized Gas Mixing, Dilution and Calibration Systems Utilizing Precision Thermal Mass Flow Controllers
Environics is a world leader in computerized gas flow instrumentation. Our headquarters for design, manufacturing, sales and service is located in a modern 11,000 square foot facility in Tolland, Connecticut. We are ISO 9001 certified, having received ISO 9001 Quality Systems Certification in April, 1997.
More and more food packaging companies are utilizing Modified Atmosphere Packaging (MAP) or Equilibrium Modified Atmosphere Packaging (EMAP) to preserve the shelf life and/or appearance of their packed food. At Environics, we know it is essential that your MAP/EMAP gases be consistent and accurate in order to guarantee the desired quality in the end products.
Environics gas mixing, blending and dilution systems provide for precise mixing of gases for a wide variety of clinical applications. Our systems can produce gas concentrations from percent to ppb levels for single or multi-point calibration. The high accuracy of our mixers make them the units of choice for a wide variety of laboratory and research applications.
Environics gas mixing and gas delivery systems are used extensively by sensor development companies as well as sensor manufacturers. Our systems are ideal for production screening (sorting) of sensors as well as research and development. The Environics systems are an efficient and versatile piece of laboratory equipment
The Environics Series Continuous Emissions Monitoring Calibration Systems (CEMCS) have been used in CEM vans and laboratories for over twenty years. They meet or exceed the performance requirements of the United States EPA 40 CFR Part 51 Method 205 Appendix M.
At Environics, we know it is essential that your shielding gas mixes be reliable and accurate in order to guarantee your desired weld quality.
At Environics, we are dedicated to customer service before, during and after your system is built. We stand by our systems and believe in building long-term relationships with our customers.
You have successfully added from to your part list.
---