High Capacity Ship and Barge Unloading
Product Announcement from FLSmidth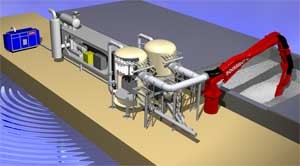 Docksider™ Vacuum Unloaders
Docksider vacuum unloaders have the optimal characteristics for the high throughput terminal operations on the big river system: high capacity, a rugged design, proven equipment, and dedicated support.
Key features
Robust and flexible vacuum arm enables high efficiency barge unloading with minimal clean-up
GORE-TEX® filter elements provide excellent dust extraction, compact filter receivers, and a long filter element life
Docksider barge unloaders can be uniquely equipped with a vibrating screen eliminating lumps and debris from the product
Large, durable, low speed vacuum pumps allow for reliable, high capacity unloading
Standard compressors allow for simple, cost effective solutions for various conveying distances
The cylindrical Docksider tanks, with fluidized bottom, allow for maximum volume and conveying efficiency


FLSmidth's Mechanical Screw Type Ship Unloader
Multiple materials
The mechanical unloader from FLSmidth is suitable for multiple materials unloading. A wide range of products can be handled such as cement, flyash, slag, agribulks, etc. Special versions are available for coarse materials such as coal, phosphate rock, etc.
Low energy consumption
Mechanical unloaders have very low energy consumption. For example, a mechanical unloader with a rated capacity of 800 tph on cement has an installed power of less than 500 kW.
High unloading capacity
Mechanical screw unloaders are known for their high unloading capacity. Depending on material characteristics, rated capacities of 500 to 1400 tph can be achieved. Ship sizes between 15000 DWT and Panama class can be unloaded.
Kovako™ Vacuum Unloaders
Vacuum ship unloaders provide complete conveying from ship to storage using only a pipeline. This makes it possible to operate even at the most difficult port situations. The pipeline can be below, at, or above ground level. Even removable pipeline sections are possible.
The unique ability of the large vacuum unloader to reach inside of a complete hold without repositioning makes it possible to have dock mobile, barge mounted and rail mounted configurations, all with a very high average through-the-ship capacity. The highly maneuverable vacuum arm reaches all through the hold combining efficiency with superior environmental characteristics.
---