Zero Point System
Product Announcement from Jergens, Inc.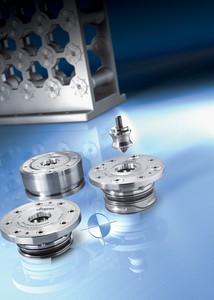 The Jergens Zero Point System (ZPS) Quick Change System combines ease of alignment, high-accuracy positioning, and high clamping forces with the ease of hydraulic or pneumatic actuation. Jergens will offer individual modules, complete systems and plates, as well as design and technical assistance.
Jergens' Zero Point System reduces complicated machine setup procedures into a single step. Unlocking and removing the clamping device is made simpler; the system eliminates the need to search for the bore, minimizing the risk of damage to high-precision zero-point bores and studs. All components are made of stainless steel.
This revolutionary technology allows you to fix, position and clamp in a single step, cutting set up times by up to 90% with <0.005mm (0.0002") Repeatability. Available with either pneumatic or hydraulic release, these positive locking locating modules allow operators to quickly change out large and small fixtures with extreme accuracy and minimal effort. It's simply the lowest cost, fully automatic solution for quick pallet changing.
The Jergens ZPS reduces setup times while increasing setup accuracy and repeatability. The new system adds to their existing Ball Lock™ Fixturing System, Vises, Hydraulic Clamping Products, and Jergens' own broad line of tooling and fixturing components and allows Jergens to offer a complete line of workholding solutions for all fixturing needs.
---