Wheel and Track Drives Information

Show all Wheel and Track Drives Manufacturers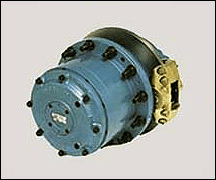 Wheel and track drives unify a gearbox, motor, and braking mechanism into a compact assembly which is placed within an individual wheel or into a drive sprocket for tracked vehicles. This removes the need for a drivetrain to transmit power from a central engine to the vehicle's rolling elements.
The motor for planetary wheel drives is typically either electrically or hydraulically powered. Hydraulic wheel drives are compatible with most industrial hydraulic systems. They are common for self-propelled machinery and off-road applications. Manufacturers will include a disc brake or a drum brake, as well as a parking brake. A gearbox disconnect allows the vehicle to be towed.
Planetary track drives need to transmit much more torque than planetary wheel drives. As such their gearboxes are characterized by high strength materials and a robust capacity for radial and axial loads. Hydraulic motors and disc brakes are most common.