O-Rings...Fluorocarbon (Viton®)
Featured Product from Arizona Sealing Devices, Inc.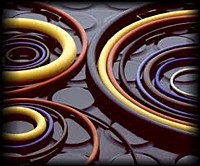 Arizonia Sealing Devices - combining high temperature resistance with outstanding chemical resistance, Fluorocarbon-based compounds approach the ideal for a universal O-ring material.
Key Use(s):
Seals for aircraft engines.
Seals for automotive fuel handling systems.
High temperature/low compression set applications.
Wide chemical exposure situations. Hard vacuum service.
Temperature Range
Standard Compound: -13° to +446°F
Special Compound: -40° to +446°F
Hardness (Shore A): 55 to 90.
Features: High fluorine grades offer higher resistance to swell in high octane and oxygenated fuel blends. This provides superior performance in Ethanol/Methanol blended gasoline. Base resistant grades offer improved resistance to amine based oil protectants found in new transmission oils, along with improved resistant to steam for higher temperature services. Low temperature bases can improve performance to -40°F. New Polymers being offered have improved chemical resistance and low temperature performance. Viton® Extreme™ ETP offers similar chemical compatibility as Kalrez™ with temperature performance with a TR(10) of -40°F and brittleness to -76°.
Limitations: Fluorocarbons (Viton®) are not recommended for exposure to ketones, amines, low molecular weight esters and ethers, nitro hydrocarbons, hot hydrofluoric or chlorosulfonic acids, or Skydrol® fluids. They are also not recommended for situations requiring good low temperature flexibility.