Custom Molded Rubber Products
Featured Product from Atlantic Rubber Company, Inc.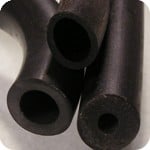 Molded/Extruded: Atlantic Rubber custom molded rubber products are manufactured to meet your strictest standards. Atlantic Rubber produces a wide variety of rubber molded parts such as bellows, grommets, seals, pads, boots, bumpers and bushings through utilization of transfer compression and injection molding processes. Atlantic Rubber's rubber-molding capabilities are practically limitless.
Atlantic Rubber molds parts from all elastomers, including Nitrile, Neoprene, Silicone, Butyl, Hypalon, Viton® and Pure Gum. From Natural Rubber to the newest polymers, Atlantic Rubber can meet your elastomeric requirements. And, if your application requires a special formulation, Atlantic Rubber can custom compound materials to satisfy your specific requirements.
Atlantic Rubber also supplies elastomeric and reinforced elastomeric extrusions. Many profiles and materials (including cellular materials) are available for applications, including gasketing, weather stripping, dust sealing, sound deadening, tubing and O-Ring cord.
Rubber-to-Metal Bonding: Atlantic Rubber expertly bonds all elastomers to metals for your applications requiring high-strength elastomeric bonds.
Gaskets: Atlantic Rubber die-cuts gaskets from a wide range of sheet materials for your sealing and packing requirements. The materials from which Atlantic Rubber fabricates parts includes elastomers, plastics, vegetable fiber, urethane, non-asbestos foams and sponges.
Injection Molded: Atlantic Rubber works within a wide range of injection moldable materials. We specialize in molding precision parts from thermoplastic rubbers (TPR's) and thermoplastic urethanes (TPU's). Our state-of-the-art injection molding equipment enables us to manufacture quality parts at competitive prices.