BRIMLITE H-FILM KAPTON* WIRE
Featured Product from BRIM Electronics, Inc.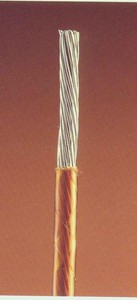 A polyimide tape film that has a heat-sealable FEP coating over a stranded silver-plated copper conductor. Provides high temperature performance -- +200°C -- with low temperature flexibility & HIGH RADIATION RESISTANCE. Also resistant to cold flow, has high dielectric strength, low dielectric constant, and it is impervious to most chemicals. Permits smaller wall insulaion and therefore lighter
than comparable insulations designed for the same voltages.
Constructions conforms to MIL-W-81381.
Std. Color: natural (Amber). Other colors available to order.
STD. P-U: 1000'
RoHS compliant.
*DuPont