End-to-End REVConnect Systems Cabling Solutions
Featured Product from Belden Inc.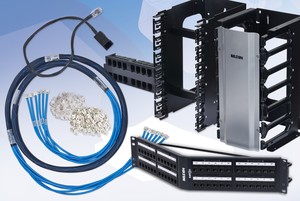 Belden Inc., a global leader in signal transmission solutions for mission-critical applications, extends the benefits of its award-winning REVConnect connectivity line to entire end-to-end solutions by offering REVConnect Systems. They provide best-in-class performance guarantees across all category levels.
Each REVConnect System includes cable and connectivity designed to meet the needs of demanding applications in use today and those coming tomorrow. These include emerging wireless and Power over Ethernet (PoE) requirements, such as next-gen wireless access points and in-building small cells. REVConnect Systems are the most reliable, easy to deploy and versatile systems available today.
REVConnect 10GXS System
Ideal for demanding applications, Belden's REVConnect 10GXS System combines high-performance connectivity and the best mechanical and electrical characteristics available in a Category 6A cable. This system supports mission-critical smart buildings, data centers, efficient 100W PoE applications and noisy environments that present lots of signal interference.
REVConnect 10GXW System
The REVConnect 10GXW System offers outstanding noise immunity and reliability, designed specifically to support the multi-gigabit, in-building wireless applications of the future (up to 10G), such as Wi-Fi 6 and small cells, as well as other smart building applications and MPTL device connections in the extended LAN.
REVConnect 3600 and 2400 Systems
Both REVConnect 3600 and 2400 Systems support networking speeds of up to 2.5G and 5G, as well as PoE device connections. Both Category 6 Systems now feature increased performance guarantees across all electrical parameters, including insertion loss and crosstalk for excellent performance reliability, network speeds and uptime.
REVConnect 1200 System
The REVConnect 1200 System offers an end-to-end Category 5e system as well, which exceeds standards and provides 160 MHz of bandwidth. It delivers the best-performing Category 5e system available to support a variety of basic business applications in standard environments.
"All REVConnect Systems offer increased information capacity and greater signal-to-noise ratio than other cabling system options available today," says Matt Baum, Belden's global product line manager for copper systems. "This provides users with the assurance that their network infrastructure investments will bring to life the technologies of today and tomorrow by performing well under a PoE load, in long channel lengths and in noisy environments where signal interference can be prevalent, such as smart buildings."
To learn more about REVConnect Systems, as well as the types of technology and applications they support, visit www.belden.com/revconnect.
Resolving signal transmission needs with solutions that enable a smooth migration to convergence requires a universal approach for enterprise environments. Only Belden's innovative enterprise connectivity solutions take this universal approach. Belden's extensive portfolio spans LAN, data centers, building automation and security and access control to keep information running smoothly. Outstanding global service and support capabilities and application-specific warranty programs complete Belden's unique offering.
About Belden
Belden Inc., a global leader in high-quality, end-to-end signal transmission solutions, delivers a
comprehensive product portfolio designed to meet the mission-critical network infrastructure
needs of industrial, enterprise and broadcast markets. With innovative solutions targeted at
reliable and secure transmission of rapidly growing amounts of data, audio and video needed
for today's applications, Belden is at the center of the global transformation to a connected
world. Founded in 1902, the company is headquartered in St. Louis and has manufacturing
capabilities in North and South America, Europe and Asia. For more information, visit us at
www.belden.com; follow us on Twitter @BeldenInc.