Compression Fitting - for 1/16" OD Tubing
Featured Product from Beswick Engineering Co., Inc.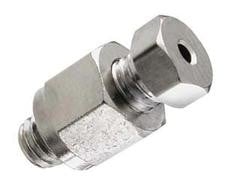 Miniature 10-32 threaded compression fitting designed for use with 1/16″ OD stiff plastic or metal tubing. Includes leak-tight captured O-ring seal and double ferrule. Available in 316 SS, 303 SS, and ENP brass.
Configurations with a 0.067" through hole are rated to 1,000 psig (68 bar) in nickel plated brass and 3,000 psig (207 bar) in stainless steel, when used with high pressure metal tubing. The 0.067 through hole version is often used to hold 1/16" inch OD thermocouples in place. The configuration with 0.032" through hole is rated to 8,000 psig (551 bar) when used with high pressure tubing. When using stiff plastic tubing, the burst pressure of the tube is typically the limiting factor.