Custom Molds & Parts
Featured Product from Caplugs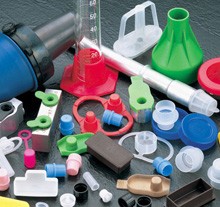 Caplugs has thousands of custom molds in the tooling library. Just because you don't see it on our site, doesn't mean we don't have a part to fit your needs. Contact our Technical Sales Department (1-888-CAPLUGS) today to discuss your customized requirements. If we don't have a mold to fit your needs, we have a team of design engineers that will work with you one-on-one to develop a part to meet even the most exact requirements. With a full in-house toolroom we can save you time, money, and the aggravation of dealing with different vendors.
If one of our standard part fits your need, but needs a few tweaks, we have a full in-house secondary department. Punch holes, cut slits, pad print your company name, and more.
Caplugs has thousands of catalog parts, but our team of engineers, toolmakers, and machine specialists are dedicated to development of customized solutions for our customers.
Please click on the links for more information or request a quote today!