Tubing and Containers from Caplugs
Product Announcement from Caplugs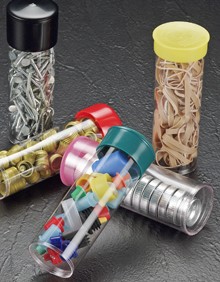 Tubing and Containers from Caplugs. Packaging tubing and containers available in closed and open-ended tubes, containers with hinged lids, vials with matching tops, and more.
TRC Series Tubing - TRC SERIES
Series TRC heavy wall ClearView™ Tubing has a clear closed end. Heavy wall thickness adds extra protection and durability. The TRC series is available in a variety of lengths to meet all of your packaging needs. Please call the factory for availability.
TRO Series Tubing - TRO SERIES Series TRO Heavy Wall ClearView plastic tubing provides the product protection you need for your heavy-duty packaging applications. Heavy Wall thickness adds extra protection and durability.
TSC Series Tubing - TSC SERIES
Caplugs ClearView plastic tubing offers unique packaging and glass-like clarity. These closed-end tubes ake an ideal package for a wide variety of products. The tubing has no side seams and the clear bottom is sonic welded for a secure seal. From industrial to consumer ended products, your end-user will appreciate this attractive and reusable package.
To place an order or request free samples of this product, please call 1-888-CAPLUGS.
---