Industrial Radiography Utilizing Digital Imaging
Service Detail from Carestream NDT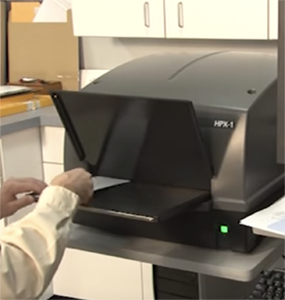 Industrial Radiography Utilizing Digital Imaging
This course offers technical and practical training designed to meet the industry's demanding guidelines for digital radiography training and qualifica­tions.
Qualifies for (10) points towards ASNT NDT Certification renewals
Candidates should have a background in film radiology (RT Level I or Level II) in order to attend.
Students have access to a full radiography laboratory including a variety of x-ray sources and digital capture devices for hands-on training.
The course is split between classroom instruction and hands-on laboratory time.
Classes given at our training facility in Rochester, NY (on-site training also available).
Small class size allows for maximum interaction between student and instructors.
Copies of course materials and a final certificate of course completion provided .
Carestream Industrial Digital Radiography Training
We are pleased to offer specialized training programs designed to specifically meet the needs of industrial radiographers. Courses are designed to help students transition from film to digital radiography. We provide students with the understanding that they need to evaluate, qualify, and implement digital technologies into production environments. Students take daily quizzes and a final exam to reinforce learning. Students will operate laptop computers to learn software tools to assist in interpretation. Our classroom instruction meets SNT-TC-1A, NAS-410, and ASME training requirements. Upon completion of our courses, students obtain a level of understanding that allows them to confidently utilize digital imaging for radiographic non-destructive evaluation. Our instruction is routinely recognized as the best in the industry by our students!
Watch>>>Caresttream NDT Capabilities Video
Tune into Carestream's NDT YouTube channel for video product demonstrations and feature overviews of our innovative imaging products.
Caresteam NDT Digital Training
Learn how to convert from film to a fully digital Imaging environment for all your NDT work. Courses meet the guideline of:
Metals Affordability Initiative (MAI)
Federal Working Group on Industrial Digital Radiography (FWGIDR)
Defense Working Group on Non-Destructive Testing (DWGNDT)
Qualifies for (10) points towards ASNT NDT Certification renewals
Carestream NDT is a worldwide provider of X-ray imaging systems and products for non-destructive testing (NDT) including: computed radiography (CR) systems, digital system plates and cassettes, digital image archiving, film, chemicals, processing equipment and accessories.
Our innovative solutions enable our customers' success and help create a safer life for people around the world through the inspection of critical components in the aerospace, transportation, oil and gas, mining and energy industries. With our award-winning products, Carestream remains at the forefront of technological advancements in imaging for NDT applications.
Exceeding our customers' expectations in the markets we serve worldwide is our highest priority, and our ability to adapt and partner with customers makes it easy to do business with us. Our customers are the beginning and the end of everything we do. We understand and fulfill their needs in ways that are meaningful to them to help them excel in today's competitive markets.
Carestream has the radiology and IT expertise to help NDT professionals improve global communication of critical and time-sensitive image sharing and review. We have global sales and service teams, strong product platforms, solid market positions and a trusted brand and we are committed to helping NDT professionals control costs while maximizing product investments.
With an employee base passionate about delivering high-quality solutions to our customers, a portfolio of market-leading products and the financial strength to invest in our future, we are poised to build on our past success and continue to innovate and grow. We are proud to be part of the Onex (TSX: OCX.TO) family of companies since 2007. Onex is one of Canada's largest and most respected corporations.
Industrial applications and safety inspection for quality-driven results
75 Years of Commitment (PDF)
For 75 years Carestream NDT has been supporting key safety organizations around the world. Read about our history as well as the recently received ASME award for 75 years of commitment to this important industry.