Riser Line Guards
Featured Product from Charles Industries, LLC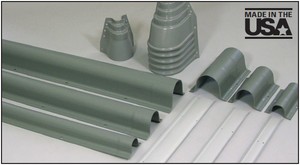 Charles Riser Line Guards provide total protection of vertical utility pole cables, a necessity for a network component that is particularly vulnerable to accidental damage leading to both both safety hazards and service interruptions. A small investment in riser protection helps avoid damage caused by impact, mowing equipment, and other accidental cutting, and eliminate costly truck rolls for repair. Charles Riser Line Guards also create an aesthetically pleasing organization of lines and ground wires, and greatly improve safety for both technicians and pedestrians.
Riser components are constructed from molded and extruded polyethylene for superior environmental protection. This material composition is lightweight, non-corrosive, and impact and chemical resistant. They provide a long, maintenance-free service life and are resistant to color fading, cracking, and distortion caused by prolonged exposure to the elements, even in cold weather.
Charles Riser Line Guards are available in 2", 3", 4" and 5" diameters in 5 ft. or 10 ft. sections with one belled end for quick installation and protection of overlapping joined ends. Risers may be placed directly over cables, eliminating cable pull-through. Pre-drilled lag screw holes are evenly spaced on flared sides for secure mounting to wooden poles. The "U" shape design of the riser guard hugs the utility pole and provides a larger usable interior space than round riser systems, often allowing a smaller diameter Charles Riser Line Guard to be utilized than a competitive round riser diameter. Outer surfaces feature molded-in ribs, a feature that allows technicians to maintain a tight grip while handling the riser.
Available accessories include boots, adapters, couplers, backing plates and fastener kits. Boots and adapters feature a multi-tiered design to universally fit over various riser sizes. Couplers have double belled ends and are especially useful for quick riser repairs without disturbing placed cables. Backing plates isolate the cable from the pole, creating a complete plastic enclosure for cables. Fastener kits include either stainless steel or galvanized lag bolts.
APPLICATIONS
Non-conductive protection of overhead to underground transitions, including:
Power Lines
Communication and CATV Broadband Lines
Ground Wires