Custom Control & Instrumentation Cables
Featured Product from Cooner Wire Company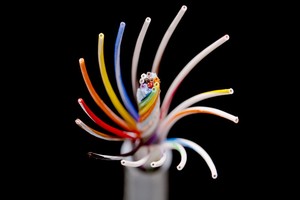 Cooner Wire maintains the world's largest inventory of flexible wire and custom cables available "off the shelf" and the ability to produce custom cable solutions that meet today's most challenging requirements.
At the core of our cables you will find finely stranded copper wire conductors and high-strength alloy conductors. Combined with thin wall insulating technology, fine wire shielding and precision cabling and jacketing, all of these components work together to provide high flexibility in a small, lightweight and durable cable package.
From silicone cable to shielded cable, mini coax to molded cable assemblies, Cooner Wire remains the first choice in specialty wire and cable design.
Applications:
Surgical Cables
Imaging Cables
Test Equip.
Training Equip.
Aircraft
Industries:
Medical
Semiconductor
Defense
Aerospace
Test & Measurement