Flexible Power Cable
Featured Product from Cooner Wire Company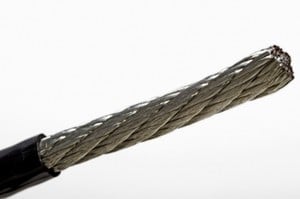 We've created a monster... a superflex cable that flexes to fit your application. Blending high-strand-count tinned copper wire rope with extra flexible PVC and silicone insulations, Cooner Wire's original series of Flexible Power Cable provides exceptional flexibility making power distribution easy. Flexible Power Cable ranges in size from small diameter 24 awg wire to extra large 4/0 awg wire with 8,515 fine strands of tinned copper wire! Flexing to fit your application, Cooner Wire's Flexible Power Cable is supplied in bulk wire or in custom cable assemblies. Flexible Flat Power Cable and flat braided ground strap is also available and perfect for routing in compact, low profile spaces.
Applications:
Ground Strap
Test Equipment
Motor Brush Leads
Power Distribution
Automated Welding Equipment
Industries:
Semiconductor
Robotics
Welding
Audio
Industrial
About Us
Formed by John Cooner in 1957 under the name of Service Cable and Wire with focus on specialty molded electrical cord sets and sales of fine and ultra-fine wire and cable constructions, Cooner Wire continues to excel world wide, as a premier supplier of high technology specialty wire, cable and cable assemblies.
Long term employees Patrick Weir and Steven Smith purchased Cooner Wire from the Cooner family in 1983 and continued to follow the successful direction of John Cooner in maintaining focus on the high technology, specialty wire and cable market. In 1984, Cooner Wire Interconnect Division was expanded and manufacturing was moved to Mexico.
As a pacesetter in the definitive specialty wire and cable industry, Cooner Wire has relied upon its continuing years of experience to help assist and solve complex electronic problems with their resource of experienced personnel. Cooner Wire continues to maintain worldwide recognition as the "go to" company for specialty wire and cable, and cable assembly products.
While Southern California remains the headquarter location for Cooner Wire Company, offices in New Hampshire, China, Japan, Israel, and Mexico are maintained in order to better serve the needs of customers in those immediate areas.