Micro Coaxial Cables
Featured Product from Cooner Wire Company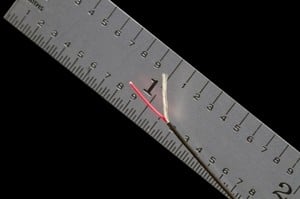 Cooner Wire's series of micro coax cables provide a flexible wire alternative to standard RG type coaxial cables. These miniature coaxial cable constructions utilize super flexible wire and are available off the shelf in sizes ranging from 42 AWG micro coax to 26 AWG mini coax. Highly flexible braided and spiral shields combined with thin wall insulating technology work together to provide small diameter, silicone insulated wire, FEP insulated wire and PVC insulated wire versions of our Micro Coax. The CW2040 series is available in 50 OHM, 75 OHM and 100 OHM and range in size from 26 AWG to 36 AWG. Additional sizes as well as twinax constructions are also available from 18 AWG to 42 AWG. Precision termination, over molding and other additional processing of our micro coax is also available. We invite your inquiry.
Applications:
Imaging Cables
Antennas
Hand Held GPS
Video
Industries:
Aerospace
Defense
Medical
Test & Measurement
About Us
Formed by John Cooner in 1957 under the name of Service Cable and Wire with focus on specialty molded electrical cord sets and sales of fine and ultra-fine wire and cable constructions, Cooner Wire continues to excel world wide, as a premier supplier of high technology specialty wire, cable and cable assemblies.
Long term employees Patrick Weir and Steven Smith purchased Cooner Wire from the Cooner family in 1983 and continued to follow the successful direction of John Cooner in maintaining focus on the high technology, specialty wire and cable market. In 1984, Cooner Wire Interconnect Division was expanded and manufacturing was moved to Mexico.
As a pacesetter in the definitive specialty wire and cable industry, Cooner Wire has relied upon its continuing years of experience to help assist and solve complex electronic problems with their resource of experienced personnel. Cooner Wire continues to maintain worldwide recognition as the "go to" company for specialty wire and cable, and cable assembly products.
While Southern California remains the headquarter location for Cooner Wire Company, offices in New Hampshire, China, Japan, Israel, and Mexico are maintained in order to better serve the needs of customers in those immediate areas.