DFT eBook:Key Considerations for Fluid Flow System
Featured Product from DFT Inc.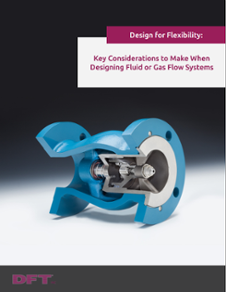 Learn the Importance of Check Valve Design Flexibility
When it comes to the flow of fluids or gasses in the system you are designing, a small change can make a huge difference. To help you evaluate the best solutions for your particular needs, we've created an eBook outlining the benefits of flexibility in design for check valves.
In it you will learn:
The difference between key types of check valves for diverse applications
How to balance selection criteria for optimal performance and price
How factors like fluid compatibility and sealing affect performance of a check valve
The key benefits of design flexibility for a check valve in your system
Download your complimentary copy of "Design for Flexibility: Key Considerations to Make When Designing Fluid or Gas Flow Systems"
DFT® provides cost-effective application engineering assistance, rapid prototyping, and fast-turn initial production. Our staff responds quickly and our systems are designed to deliver reliably within our ISO9001-2015 quality management system. For more than 75 years DFT has solved check valve problems, prevented check valve failure and water hammer and solved severe service control valve problems.
DFT® offers sanitary valves, non-slamming, and non-return valves, chemical valves, vacuum breaker valves, restrictor valves, compressor valves, wafer, threaded, and flanged valves, socket weld valves, soft seat valves, in-line valves, straight-thru design valves, silent check valves, spring assisted valves, horizontal, and vertical valves.
DFT® is available to review your valve sizing requirements and assist you in selecting from a Basic Check® valve, BNC valve, Excalibur® valve, DLC® valve, SCV® valve, GLC® valve, WLC® valve, PDC® valve, Y-Calibur ® valve, HI-100® control valve, Ultra-Trol® control valve or Uniflo valve.