DRAINMASTER Automatic Timed Drain Valve
Featured Product from DynaQuip Controls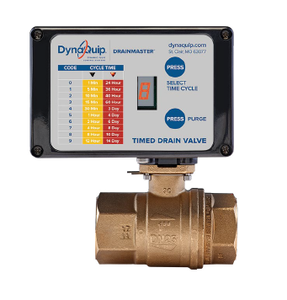 Harmful water and sediment produced in the normal operation of air systems will cause rust and corrosion to the system if not systematically removed. All maintenance experts agree that these destructive contaminants should be drained regularly for maximum performance of your air system. Automating this process is the only way that you can be sure the maintenance is performed without fail or without misuse of precious air resources.
DRAINMASTER automatic drain valve is designed to offer an expanded twenty cycle times to achieve the most exact discharge performance without wasting air. Our full-port ball valve ensures clog-free operation without cumbersome Y-strainers and the powerful electric motor outperforms inefficient solenoid-based condensate drain valves.
Available in 1/4"- 1 1/4" NPT lead-free brass ball valves, the DRAINMASTER features a digital LED timer with twenty preset frequency intervals ranging from 1 minute to 14 days with a cycle discharge time of 7 seconds. A "purge on demand" button offers even more flexibility for rapidly changing conditions.
Conveniently mountable in any position and rated to 200 PSI CWP, the DRAINMASTER is most commonly used for compressed air system condensate removal, but can be adapted to other liquid or gas purge or sampling applications.
DRAINMASTER by DynaQuip, intuitive performance in a rugged and compact design for years of reliable maintenance-free operation.