Electric Rotary Valve Actuators
Featured Product from DynaQuip Controls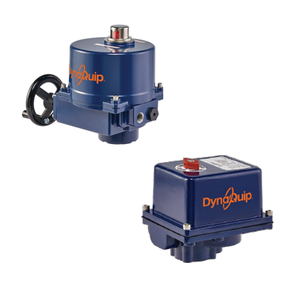 Two series of electric actuators from 150 to over 30,000 inch-pounds of torque provide a solid foundation for all your electrically actuated valve requirements.
Specialized needs are easily addressed by combining the DynaQuip Control's actuators with any of the many electric actuator accessories including Auxiliary Limit Switches, NEMA 7 and 9, Timers, Modulating Controls, and Continuous Position Indication.
The DE Series actuators are compact, providing a high output-to-size ratio. In addition, the DE Series has a multitude of features not normally found in this class of actuators. Such as parallel wiring, easy access to cams, manual override, NEMA4 and 4X standard, and any-orientation mounting for flexible installation. Available in 120VAC, 220 VAC (PH1), 12VAC, 12VDC, 24VAC, 24VDC.
The MA Series is DynaQuip Controls' heavyweight contender with 400 to 30,975 inch-pounds of torque. Self-locking high alloy steel gear train makes this the perfect choice for your larger quarter-turn applications. The MA series can be applied for service on most ball, butterfly, and plug valves; dampers and vents; and other similar rotary quarter-turn automation applications. Non-clutch, side mounted hand wheel and four (4) limit switches for motor control and remote indication of end of travel. Available in 120VAC, 220 VAC (PH1), 220VAC (PH3), 12VDC, 24VDC, 24VAC, 460 VAC (PH3).
Now entering our seventh decade, DynaQuip Controls Inc. continues its long-standing commitment to designing and manufacturing superior products and providing outstanding personal service. Electric actuators and valve automation designs lead our drive as we focus on the products of tomorrow