Continuous Flexing Nonmetallic Liquidtight Conduit
Featured Product from Electri-Flex Company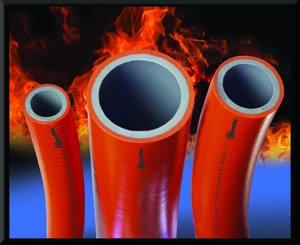 Type LNMP Flexible Electrical Conduit provides an extreme all temperature rating from -55°C through 105°C and is ideally suited for continuous flexing applications due to its all PVC construction.
cUL and CSA listed
It does not contain a metal core which could fatigue from repeated flexing or vibration and is often installed in "Power Track", automotive industry and other industrial robotic applications.
Consists of layered, Type A construction that incorporates a smooth seamless inner core of flexible PVC, bonded to a covering of flexible PVC. Between these layers is a woven nylon mesh for added reinforcement.
The PVC material is a high-quality, flame-retardant compound that resists oil, mild acids and exposure to sunlight.
Available in Safety Orange color and sizes 3/8" through 2" but is also available in Black and Gray.
It can be used in conjunction with Type A Connectors.
Extreme Temperature flexible conduit by Electri-Flex offers the advantages of a flexible sealed raceway coupled with the formulated outer jackets that withstand excessively hot or cold conditions. Other All Temperature Conduits available include Types AT, ATLA, ATX, EMS, EMCS, and Corrlok®.
Download the LNMP Spec Sheet or email Marketing at mktg@electriflex.com to learn more today.