Profile Home
About


"For over 60 years, Electri-Flex has been the electrical industry leader in innovation, quality and value added solutions for flexible wire and cable protection. Our dedicated, loyal work force and market leading manufacturer representatives give Electri-Flex a winning formula to carry our brand into the twenty-first century and beyond"
— Jason W. Kinander, CEO.
Liquatite® Flexible Electrical Conduit, by Electri-Flex Company
The Liquatite® line includes over 50 varieties of flexible electrical conduits for contractors, OEMs, industrial maintenance and repair (MRO), government, utility and export users.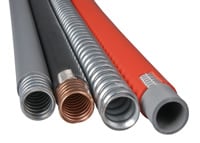 Liquatite offers the world's widest range of conduit, including jacketed and non-jacketed metallic conduit, non-metallic PVC conduit, shielded conduit, and our non-metallic Corrlok® nylon corrugated conduit system. Our high quality, easy-to-install standard and custom offerings can meet such characteristics as:
High/low temperature
Halogen-free/low smoke
EMI/RFI shielding
Tight spot bending
Continuous flexing
UL/CSA
Smoketight/liquidtight
Flame retardant and self-extinguishing
Oil resistance
UV resistance
Lightweight
Specialty
Direct Burial
Superior Construction and Quality
Our years of applications experience have taught us how to distinguish a superior flexible electrical liquidtight conduit from a less desirable one. As a result, we have developed design methods for our conduit that help prevent common problems. Our unique construction includes:
More convolutions per foot than other conduit — meaning more steel per foot for greater crush strength.
Advanced Quality Control — ensuring precise I.D./O.D. tolerances for a superior liquidtight connection.
Patented Flexi-bond for non-sleeving, non-wrinkling jacket — improving performance and appearance and prevents unraveling.
Squarelocked and Interlocked inner metallic strip — provides added mechanical strength.
Our vertically integrated manufacturing system gives us complete quality control over every step of the conduit production process, from raw materials processing through assembly. Testing is performed by a team of Quality Assurance experts at each production stage. Every foot of conduit is tested for proper dimensional characteristics utilizing the latest measuring devices.
Technical Articles