Inductive Proximity Sensors...Extreme Range
Featured Product from Fargo Controls, Inc.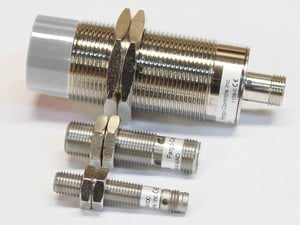 Fargo Controls, Inc.has 3 Extreme Sensing Distance proximity Sensors. Two 2 of these sensors offer some of the highest sensing distances semi-flush sensors in the industry. The 8mm & 12 mm diameters offer 4mm & 8mm operating distances respectively. These distances are 4 times that of standard sensors.
The 30mm diameter non-flush mount version offers a 50mm operating distance as well as a sensitivity adjustment.
FEATURES:
· Up to 4 times larger operating distance then standard sensors
· 8mm & 12mm versions are semi-flush mountable
· Short circuit & reverse polarity protection
· Protection degree IP67: dust tight and protection from the effects of immersion
· LED function indicator
· CE & RoHS
For more information visit: http://www.fargocontrols.com/extremedistance.html
For information on our other Proximity Sensors visit: http://www.fargocontrols.com/sensors.html