Festo Didactic for Skill Development & Consulting
Service Detail from Festo Corporation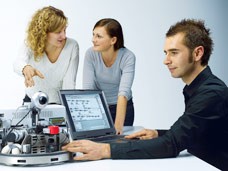 Festo Didactic is a global leader in basic and further training in industry. As a provider of skills development for manufacturing and process automation, the services we offer range from educational equipment for training facilities to training and advice for industrial production companies.
Learning Systems
Everything from a single source
Our range covers all current topics in technical basic and further training:
Technical training packages
Learning and simulation software
Courseware
Modular training factories
Education consulting
Training and Consulting
Consistent focus on valve creation
40 years of experience in the area of training and 20 years of experience in process optimisation. With experienced trainers and consultants and the correct formats and methods, we increase your employees' and your company's success – continuously and verifiably.
Training courses
Qualification programmes
Consulting
Festo International Training and Consulting