MPA-C Clean-Design Valve Terminal
Featured Product from Festo Corporation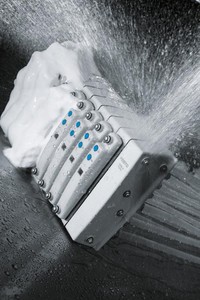 Festo introduces its rugged and versatile clean design MPA-C valve terminal.
The MPA-C meets the requirements for protection class IP69K and CRC4 for high corrosion resistance. It has a redundant seal system that allows problem-free cleaning with high pressure jets or foam. This enables MPA-C valve terminals to be installed in locations with harsh environmental conditions and strict sanitary requirements. The terminal is made with FDA-compliant materials and is lubricated with NSF-H1 food grade lubricant.
MPA-C terminals allow for individualized valve configuration. There are electrical interfaces on the front or back side, with multi-pin, fieldbus or Ethernet connectivity, with or without manual override. Options range from one to 32 pressure zones, which are freely configurable. MPA-C also features FDA certified tubing-fitting combinations.
A wide selection of valve options includes:
5/2-way valve, single solenoid and for safety applications with mechanical spring return
5/2-way valve, double solenoid
5/3-way valve, exhausted, pressurized, or closed in mid-
position
2 x 3/2-way valves
2 x 2/2-way valves
Special functions such as 3/2-way valve with separate air supply connection
"OEMs in the food and beverage industry operating machines that must meet the strictest sanitary requirements will definitely want to investigate the new MPA-C clean-design valve terminal," said John Holmes, Food and Beverage Industry Manager, Festo. "They deliver all of the flexibility and cost savings advantages of the latest generation in machine mounted valve terminals."
For more information on the Festo next generation MPA-C clean design valve terminal, call Festo at 800-993-3786 and visit www.festo.com/us.