Pneumatic Valve Terminal VTUG
Featured Product from Festo Corporation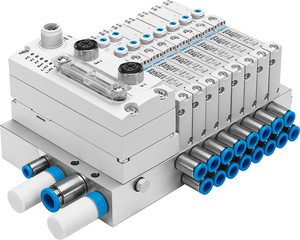 Festo Corp. - NEW compact, low-cost VTUG pneumatic valve terminal from Festo offers flexibility in the choice of control options, including simplified field bus connectivity and many other performance benefits.
The
VTUGis designed for food, beverage,packaging, electronics, semiconductor
, and light assembly industries where low cost and assured performance (high flow rate, small footprint,and long cycle life) is essential.
Compact, lightweight VTUG aluminummanifold and valve housings can be mounted in cabinets, on machines,
and on robotic end effectors. The VTUG valve terminal is also ideal forcompact pilot valve applications when using an available dual 3/2-wayfunction valve to accommodate from 4 to 48 solenoids.