Solid-State Cylinder Switch SMT-8M-A
Featured Product from Festo Corporation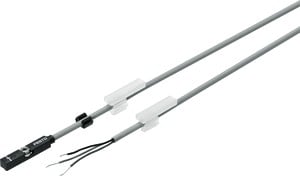 Festo is introducing the new SMT-8M-A solid-state cylinder switch for T-slot applications on pneumatic drives. The company's premier new switch, like all Festo cylinder switches, is fully optimized, harmonized, and tested for Festo pneumatic drive packages, which ensures high reliability and fast set up.
Features of the SMT-8M-A:
Protection class IP 65/68/69K
Extended temperature sustainability range from -40oF to185oF (-40oC to +85oC)
Cable quality comes standard for drag-chain and robotic applications
Additional cable clip for single handed assembly
Supplemental on-board LED for proper field commissioning
The SMT-8M-A switch is loaded with new features yet the footprint of the switch has been reduced by almost 20 percent, making it one of the most compact solid-state cylinder switches in the market.
The SMT-8M-A switch includes both NO/NC and PNP/NPN options in the same housing, giving flexibility to the customer in terms of switching choices and eliminating the need to stock multiple spare parts. The power supply range to 5 VDC on the lower end provides the flexibility to link the output signal directly to a TTL circuit.
The cable quality is superior and makes the sensor completely reliable in drag-chain applications and even on robot arms. It has dust-proof and explosion-proof features that add to application reliability in harsh environments. Its protection rating of IP69K makes the cylinder switch ideal for high temperature and high pressure wash-down applications. In addition, the output signal is guaranteed to stay ON for at least 4 ms in high-speed applications where switch-ON signals could be missed.
Features such as an additional cable clip and supplemental onboard LED aid in easy installation and commissioning in the field as does the sensor's configurability. The sensor also ships with label-holders at each cable extremity, making it easier to document the sensor in the field.