Instrument Syringes
Featured Product from Hamilton Company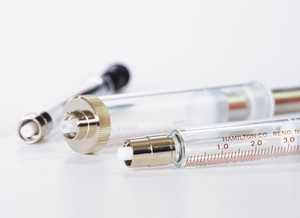 All Hamilton instrument syringes are either 1700 or 1000 series Gastight® syringes with a polymer plunger tip that creates a leak-free seal. Traditionally the tip is made from PTFE or UHMWPE but other materials can be used for select applications.
We offer a comprehensive selection of specialty syringes with various terminations and plunger material types providing long life for the most precise and reliable fluid handling. Our instrument syringes meet the needs for the most demanding applications and are designed for Hamilton instrumentation and other OEM components.
Automated Instrument Syringes
Quality. Accuracy. Precision. Three words describing the features inherent in every syringe manufactured by Hamilton. Scientists have relied on Hamilton Company to provide the highest quality syringes for precision fluid measuring. We have set the standard in the industry by combining top quality materials with unsurpassed skilled workmanship.
Long Life Syringes
The Long Life Syringes developed by Hamilton are an advanced development of our syringes for diagnostic instruments. The plunger tip is made of durable ultra-high molecular weight polyethylene (UHMW-PE) which is a harder material then PTFE. They have an extremely long lifetime when used with aqueous solutions that crystallize or scratch traditional PTFE plunger tips in syringes.