Digital Hydraulic Multimeter with Bluetooth
Featured Product from HydraCheck Inc.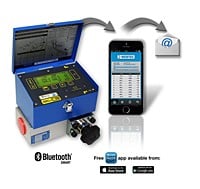 The DHM 4 series digital hydraulic multimeter is an all-in-one unit designed to test the performance of hydraulic pumps, motors, valves and hydrostatic transmissions with the added benefit of Bluetooth functionality.

This new generation of testers, aimed at hydraulic field services engineers everywhere, enalbes you to easily measure the performance of your hydraulic system, pinpoint faults and quickly email a test report in just a few presses of your Android or iOS smart phone, using Smart Bluetooth™functionality and the free-to-download Webtec QuickCert™App. This portable solutions means you no longer have to return to the office to send your report as all of this can be achieved while working in the field, a quarry, a construction site or a mine or just on the factory floor.
The DHM 4 is the ideal tool for pinpointing hydraulic system faults, reducing downtime and helping in preventive maintenance.
Accurate measurement of flow, pressure, temperature, power, and volumetric efficiency.
Produces an electronic report for immediate email to user via Bluetooth™ and smart phone app.
Automatic calculation of hydraulic power and volumetric efficiency.
Built-in loading valve with "Interpass"™ safety system.
Bi-directional for unrestricted connection and simplified testing.
Portable, robust and sealed to IP54.
Large clear digital display with adjustable contrast