Pressure Gauge Diagnostic Tee Kits
Featured Product from HydraCheck Inc.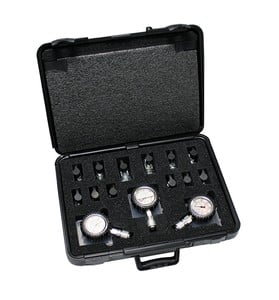 The Pressure Gauge Diagnostic Tee Kit is an excellent tool for capturing pressure measurements on all types of hydraulic and pneumatic equipment, both mobile and industrial. The kit combines accurate pressure gauges along with the most common in-line adaptors for JIC and ORFS port configurations. These adaptors can be plumbed quickly to make interfacing with any system easy.
Together, the gauges and diagnostic tees provide system accessibility coupled with state-of-the-art precision measurement. The rugged case is designed to be versatile and portable. This kit is the ideal tool for any pressure sensing application. There are six (6) kits to choose from and you can get them with either Test 20 or PD series diagnostic connectors.

Each Pressure Gauge Diagnostic Tee Kit includes:
One, two, or three pressure gauges.
Six (6) JIC tees with diagnostic test ports.
Six (6) ORFS tees with diagnostic ports.
One (1) microbore hose assembly for use with each gauge.
One (1) durable carry-case with three (3) removable storage compartments.
Click here for more details or to request a quote.
HydraCheck was established in 1990 when Rory McLaren realized there was insufficient maintenance and testing equipment for hydraulic systems. HydraCheck's benchmark is to be the most reliable source for all maintenance and testing needs. Furthermore, we strive to provide the best products available on the market. HydraCheck has progressively developed into the leading maintenance and testing equipment company and continues to expand inventory and implement elite customer service. Our objective is to provide the diagnostic instrumentation that maintenance technicians need in order to do their job safely and effectively.