Industrial Infrared Thermometer
Featured Product from HydraCheck Inc.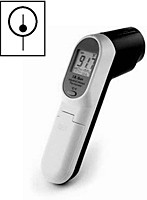 The industrial infrared thermometer is designed for broad general purpose use in research, industrial applications, HVAC, construction, repair or maintenance services, and even around the house if you're technically inclined. Read temperature instantly from a distance. The quality lens and machined baffles ensure accuracy with a 12:1 distance-to-target spot ratio. At 12" you can measure a 1" spot diameter. The bright pointing laser
helps you aim.

New features include adjustable emissivity so you can set the thermometer to read a variety of different surface materials. Operation is simple. Pull the trigger to instantly read the temperature of the surface you're pointing at. Let go of the trigger and the reading will stay in "Hold" for several seconds so you can take note of it. While the trigger is depressed, you can also scan looking for maximum or minimum temperatures as you move the laser across a larger target. A useful feature in finding hot or cold spots in walls,
insulation, heated objects or larger areas. Other features include an averaging function and a differential mode. High and low alarms are easily set so the thermometer will beep for readings below or above your preset thresholds.


The main display of the thermometer is big enough to read and it's backlit for easy viewing anytime. Batteries are included and replacements can be found anywhere (2xAAA). Order the optional holster to protect the unit between uses. This is a hiqh-quality, professional tool that will surprise you at this price.
HydraCheck was established in 1990 when Rory McLaren realized there was insufficient maintenance and testing equipment for hydraulic systems. HydraCheck's benchmark is to be the most reliable source for all maintenance and testing needs. Furthermore, we strive to provide the best products available on the market. HydraCheck has progressively developed into the leading maintenance and testing equipment company and continues to expand inventory and implement elite customer service. Our objective is to provide the diagnostic instrumentation that maintenance technicians need in order to do their job safely and effectively