TEMA System 100 Diagnostics Nipples
Featured Product from HydraCheck Inc.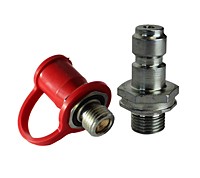 Thanks to their advanced design, the diagnostic nipples are reliable components in the System 100 measuring device. They are made of hardened steel. The diagnostic nipples are maintenance free and are designed for temperatures from -40°F to 230°F (-40°C to +110°C). The integrated stop valve seals up to a 90 % vacuum. All mechanical parts in the diagnostic nipple are made of corrosion proof materials. An O-ring is integrated in the thread of the measuring nipple as a seal. Comes equipped with a dust cap.