TEMA Systems 100 Diagnostic Couplers
Featured Product from HydraCheck Inc.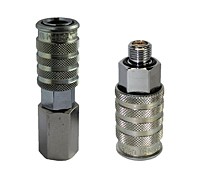 Thanks to their advanced design, the diagnostic couplers are reliable components in the System 100 measuring device. They are made of hardened steel. The diagnostic couplers are maintenance free and are designed for temperatures from -40°F to 230°F (-40°C to +110°C). All mechanical parts in the diagnostic coupler are made of corrosion proof materials.
Compatible with older Volvo® and some Samsung® machines.
Specifications:
Fully sealed
Maintenance-free
Metal-to-metal seal
Temperature Rating: -40°F to +230°F (-40°C to +110°C)
Pressure Rating: 5800 PSI (400 bar)
HydraCheck was established in 1990 when Rory McLaren realized
there was insufficient maintenance and testing equipment for hydraulic systems.
HydraCheck's benchmark is to be the most reliable source for all maintenance and
testing needs. Furthermore, we strive to provide the best products available on
the market. HydraCheck has progressively developed into the leading maintenance
and testing equipment company and continues to expand inventory and implement
elite customer service. Our objective is to provide the diagnostic
instrumentation that maintenance technicians need in order to do their job
safely and effectively.