Preventative Maintenance Program
Service Detail from Industrial Magnetics, Inc.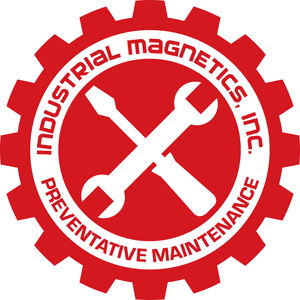 Preventative Maintenance Program
Industrial Magnetics, Inc. is proud to offer a dedicated technician to assist customers with preventative maintenance, service, regulatory, audit and related requirements on magnetic equipment.
Preventative Maintenance Benefits
Independent 3rd party auditing keeps your facility in compliance with regulatory requirements
Visual inspection of magnet(s)
Onsite repairs, upgrades and more all performed by a qualified Technician
Check for excessive wear
Replace worn parts such as magnet, gaskets and seals
Cycle through mechanical steps to ensure motors, belting, cylinders, guide rods, etc. are in proper working order
Technician performs and documents pull tests to determine magnet strength and provide recommendations for continued use, "watch list" or immediate replacement of magnet(s) and/or components
IMI can provide a Technician to match your QA/QC schedule
Technician can train your Maintenance Staff on Best Practices for ensuring maximum performance and longevity of magnet(s)
Ideal opportunity to create a PM Schedule on magnet(s) by getting onto the IMI PM Calendar
Technician Qualifications
Our Preventative Maintenance/Service Technician has an extensive background and knowledge of magnetic assemblies and devices that, paired with health, safety and other training, creates the ideal individual to work on magnetic equipment in your facility.
OSHA 30 Hour General Industry Standards Certificate
19 years experience Fabricating, Welding and building magnetic assemblies and devices at Industrial Magnetics
Certified Occupational Health & Safety Officer
Hazardous Materials Responder - Operations Level
Certified Michigan Fire Instructor
Certified Fire Officer III
Certified Michigan Fire Fighter II
Certified Michigan EMT
Variety of related Certifications via State of Michigan DELAG and FEMA
Follow us on:
Watch>>>Industrial Magnetics, Inc. - Providing Magnetic Solutions Since 1961
IMI is an industry leader in providing both permanent magnets and electromagnets for work holding, lifting, fixturing, conveying and magnetic separation.
At IMI, our specialty is custom fabricating! We design, engineer and manufacture magnetic assemblies and magnetic separation devices for our customers' specific requirements, and take pride in the quality and performance of our products.
With worldwide distribution through a combination of a direct sales force and manufacturers representatives, we strive to provide personalized service and innovative solutions to meet the exact needs of your application.
Certification And Compliance Initiatives
Industrial Magnetics, Inc. strives to provide our customers with the highest quality products and services. Listed here are just a few of the regulations and practices we comply with to provide users with the safest and most environmentally friendly magnetic products available. Please contact us if you have any questions regarding our manufacturing process and standards compliance.