UL Recognized Quick-Fit Female Terminals
Featured Product from Keystone Electronics Corp.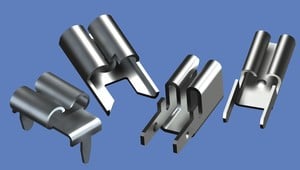 Keystone's popular series of female, quick-fit, PCB terminals, which provide vertical, horizontal or bottom entry connections with male types, are now UL Component Recognized
These sturdy, Tin Nickel-Plated terminals are designed to maintain solid integrity under repeated, multiple mating cycles. Horizontal entry types accept 0.110"(2.8 mm), 0.205" (5.2mm) or 0.250"(6.4mm) male tab sizes. Vertical entry configurations accept 0.110"(2.8mm), 0.187"(4.8mm), 0.205"(5.2mm) or 0.250"(6.4mm) male tab sizes. The Universal entry receptacle (Cat. # 3557) accepts .110"(2.8mm) to 0.250"(6.4mm) male, quick fit counterparts with either vertical or horizontal entry as well as a bottom entry type (Cat. # 3577).
Mating male versions of these Quick-Fit PCB terminals have already been granted UL approvals, soon to be joined by the female series which were recently submitted for UL Component Recognition processing.
All Quick-Fit terminals manufactured by Keystone, are available from stock through the company's global distribution network, assuring prompt response and delivery.
Keystone Electronics Corp. is a major manufacturer of interconnect components and hardware and provides a full complement of stamping, machining and assembly services. An in-house application engineering group are available to assist customers needing product modifications or special designs. RoHS Compliant