1.4 megapixel Astrophotography USB 2.0 Camera
Product Announcement from Lumenera Corporation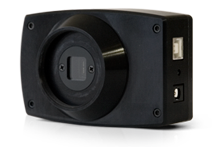 The USB 2.0 digital interface ensures a simple plug and play installation – and one standard cable minimizes telescope clutter. No framegrabber required.
SKYnyx2-1 is supported by an experienced team of technical support and imaging experts. We understand your imaging needs and are here to help you get the most out of your camera.
Capture clear, crisp, planetary, lunar and solar images with the SKYnyx2-1.
Highlights:
High-speed USB 2.0 interface facilitates ease of installation on all computers
Excellent sensitivity and low noise CCD 1.4 megapixel image sensor
High quality images with no compression
15 fps at full 1392 x 1040 resolution
Maximum frame rates exceed 30 fps with binning and ROI
Select 8 & 12-bit pixel data modes
Ordering Options:
SKYnyx2-1C – Color Astrophotography USB 2.0 Camera
SKYnyx2-1M – Monochrome Astrophotography USB 2.0 Camera
Technical Specifications:
| Camera Sensor | |
| --- | --- |
| Image Sensor | ½" Sony ICX205 1.4 megapixel color or monochrome progressive scan CCD sensor 6.5mm x 4.8mm array |
| Effective Pixels | 1392x1040, 4.65µm square pixels |
| Frame Rate | 15 fps at full resolution, higher with binning and ROI |
| Dynamic Range | 58dB |
| Digital Output | 8 and 12-bit |
| Read Noise | 12 e- rms |
| Dark Current | 2 e-/s |
| Binning Options | 2x2, 3x3, 4x4 |
| | |
| Mass | 320g |
| Power Requirement | USB bus power, or external 5VDC - 500mA |
| Power Consumption | ~2.5Watts |
| Operating Temperature | 0°C to +50°C |
| Operating Humidity | 5%-95%, Non-condensing |
| Integration Time | 1/1000 to 16 sec. |
| Shutter | Global Shutter |
| ROI | User Selectable |
| Auto Exposure | Automatic / Manual |
| White Balance | Automatic / Manual |
| Gain | 1 to 10x programmable |
| Interface Connector | Standard USB 2.0 high-speed interface |
| Dimensions (W x H x D) | 2.52 x 3.85 x 1.68 inches |
| Lens Mount | T-Mount |
---