Lead Ingot
Featured Product from MarsMetal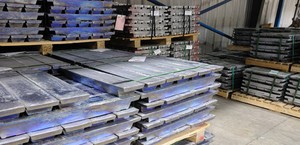 Mars Metal is your source for ingot lead. Lead ingots have managed to acquire a variety of industry-specific names. Ingot lead can also be known as lead pigs, bullion, or bar lead and range in size from 10 LB ice cube tray ingots to 70 LB large ingots.
We Supply:
Lead ingots produced to

ASTM B29-03

specifications for

refined pure at 99.97%

and

pure lead at 99.94%
Lead ingots that tweak the standard purity specifications to include very low sulfur at controlled levels
Purity specifications like those listed above would be used in radiation shielding applications for interlocking lead bricks or nuclear quality pours as well as extrusion lines that require a very consistent lead quality to achieve reliable repeat values.
*G2 ballast grade pig lead

that would satisfy the requirements of the end-user requiring a "heavy metal" lead ballast weight solution
*This material is produced to a 96.5% minimum purity lead level and may contain 1.5-3% Antimony (Sb) and .1-3.5% Tin (Sn)
Mars Metal is able to provide you with very specific lead grades such as:
Chemical Copper lead
Low sulfur
Low bismuth
Low silver pure lead
Various

alloyed lead ingots

produced to meet your specifications, such as

3% antimonial bullion

(typically used for sailboat keels) or

6% antimonial bullion