MSA005 Series Zero-Halogen MIL-STD-1553 Cables
Featured Product from MilesTek Corporation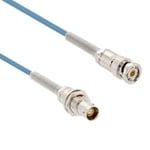 A new series of high temperature, low-smoke zero-halogen (LSZH) cable assemblies for use in demanding mil/aero applications.
MilesTek's new MSA005-series cables have an operating temperature rating of -30°C to +80°C and feature LSZH jackets making them ideal for use in enclosed areas where PVC's toxic properties are restricted, including use in military vehicles and enclosed building applications.
Other features include 2-slot and 3-slot TRB & TRS plugs and jacks, bulkhead-style jacks, insulated and non-insulated connector options as well as versions with blunt cut ends. Off-the-shelf lengths range from .03 meters to 6 meters (model dependent) and each assembly is constructed with 0.155" O.D., 78 Ohm, LSZH twinax cable.