Clamping Screws
Featured Product from NBK America LLC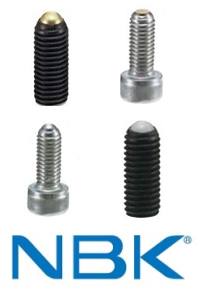 NBK's Clamping Screws are a step above the rest.
Some of the recommended applications for these products include but are not limited to workpiece fixing and tool fixing. These screws will allow you to spend less time on manufacturing workpiece fixing jigs and similar maintenance. Using clamping screws allows the jig body to only need screw threading, if the workpiece contact surface wears merely replace the screw.
Our clamping screws have 4 ball shapes to help fit any application. The first, full ball type is low cost and point contact fixes workpieces. The second, a flat ball, is used for larger contact surface area while still not damaging workpieces. The third, flat ball with limited swivel allows for structure of flat surfaced to not swivel over. The last, knurled ball with limited swivel type allows secure clamping even on rough surfaces such as castings.
We have 5 materials for the ball tip, steel, stainless steel, polyacetal, brass and ceramic. These various materials are suited for various applications.
These screws can also receive NBK's vibration resistance service helps customers as we can treat our screws with anti-loosening treatments. This saves you from having to apply adhesive or sealing tape to your screws.
We also offer a cleanroom service wherein we wash and pack your screws in a cleanroom.
You can read more about our Clamping screws by using the following link:
https://www.nbk1560.com/en-US/products/machine_element/screw/service/about/
Have any other questions about the Clamping Screws? We have dedicated staff ready to help, you can reach them over the phone at 484-685-7500 or via email at info.us@nbk1560.com