Specialized custom cable test specifications
Service Detail from New England Wire Technologies Corporation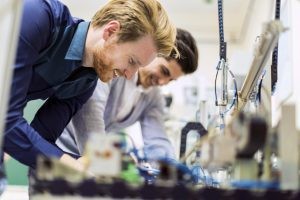 Our Testing Capabilities
At New England Wire Technologies, our experienced technicians perform a diverse array of on-site testing in the lab as well as on the manufacturing floor.
At New England Wire Technologies, our experienced technicians perform a diverse array of on-site testing in the lab as well as on the manufacturing floor. Equipped for mechanical, electrical, environmental testing, and material analysis, our lab tests conductors, insulation and jacket materials, cable components, and finished wire and cable according to MIL-Spec, federal, automotive, customer-specific, or even specialized custom cable test specifications—tensile and elongation, flexibility, torque, capacitance, high-pot, extreme hot and cold, etc. We are an ISO 9001:2015 certified manufacturing facility and have both UL and CSA certifications.
Utilizing state-of-the-art equipment and instrumentation to ensure compliance and provide the highest quality products, we work closely with our customers to co-develop test methods for validation programs and first article production. We also work with customers to accurately determine cable sample components and materials for replication of existing cable or improvements to overall design.
Having substantial testing capabilities is a huge benefit to our customers as it allows us to test to real-world conditions to fully understand how the cable will react in various conditions and situations. We are able to accurately determine material failures and behaviors under specific environmental and mechanical conditions to help predict cable longevity and failure rates. Our extensive understanding of typical cable behaviors allows us to provide better and more intelligent design for a variety of applications.
Want to take a closer look at our in-house testing labs and equipment? Check out the videos to explore our Electrical, Mechanical, and Material Analysis lab capabilities.
Watch>> a short video which showcases our capabilities and the talented people behind everything we do.
About New England Wire Technologies
New England Wire Technologies is a privately held, employee stock ownership company with a rich history dating back to 1898. Our Lisbon, NH facilities consist of over 385,000 square feet of manufacturing, quality/testing, tooling/machine fabrication, and office space. We are an ISO9001:2015 registered company with more than 400 employees operating three shifts, five days a week.
New England Wire Technologies in Lisbon, NH is the primary and largest corporation in the MJM Holdings Group manufacturing all of the wire and cable sold under the New England Wire Technologies name. Other subsidiaries include New England Tubing Technologies (Lisbon, NH), Bay Associates Wire Technologies (Fremont, CA) and New England Interconnect Systems (Santa Ana, Mexico).
Whether working with customer supplied specifications or designing to a unique requirement, New England Wire Technologies' design teams develop innovative, one-of-a-kind wire and cable solutions. On-site manufacturing processes include wire drawing, plating, braiding, cabling, insulating, and extrusion services. And, since all of our proprietary equipment and tooling is designed and built in-house, we have complete control while also offering quick modifications when needed. Through true vertical integration of manufacturing processes our customers' design-to-market curve is the shortest in the industry.