Protomatic Medical
Service Detail from Protomatic, Inc.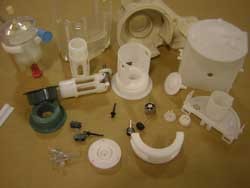 For more than thirty years, Protomatic has been involved in the medical industry providing CNC precision machining services and custom components such as laboratory equipment, surgical tools and operating equipment as well as components for the optical and dental fields.
Protomatic's primary focus of our precision medical machining is on manufacturing and supporting product development for Cardiovascular and Orthopedic applications.
Specializing in:
Cardiovascular
Trocar Devices
In port and Out port Connections for LVAD
(Left Ventricular Assist Device)
Tunnellers
Peristaltic Pump components
Specialized Surgical Tools
Laser Holders
Canulas
Implanted IV Ports
Surgical Retractors
Cytometer Components
Bed Mounting hardware

Orthopedic
Plates and Screws
Locking Pins and Nails
Locking plate systems
Pedicle screws
Circular External Fixation Systems
Cannulated Lag Screws
Cannulated Orthopedic Screws
Maxillofacial Devices
Maxillofacial Screws and Implants
What makes us different?
Protomatic manufactures highly complex, quality components for those projects requiring demanding surgical precision. We utilize CNC 4-axis and 5-axis milling as well as 3-axis turning. We are experts in materials such as plastics, rubbers, ceramics, aluminum, steel, stainless steel, superalloys, titanium, and refractory metals. Many of these materials are frequently used in the medical industry.
By combining traditional precision machining services with state-of-the-art CAD for custom components, Protomatic provides the convenience of a "one-stop shop" unlike many CNC job shops and turning facilities. A keen attention to details and precision crafting are critical when manufacturing medical components and tools. Protomatic is experiencing steady growth in this industry due to satisfied customers and our professional staff.
Protomatic is committed to your success with our leading edge innovation and reliable service. Complimented with the efficiency and agility of a small company, we will create a successful environment for your product development. ISO-13485:2003 Registered.